As a brand with a core in professional swimming, we are deeply conscious of how the body moves and dedicated to understanding the way our bodies perform.
Our passion is to apply that knowledge into products for all your aspirations – from training to competition and even the much needed rest days.
Through our legacy of collaboration and expertise, we design and craft the second skin that gives you the confidence to perform, feel and look your best.
FIRST DECADES, THE INNOVATIONS
The arena brand was created by sports visionary Horst Dassler, son of the Adidas founder and President of Adidas France. During the 1972 Munich Summer Games, Dassler was on the pool deck when Mark Spitz won his historic 7 gold medals.
Dassler, along with the rest of the world, found himself in awe because not only was Spitz the first athlete to win 7 golds in one Olympiad, but at the same time he set 7 new world records. Dassler immediately started forming plans for a swimwear company dedicated to aquatic sports and created the new performance swimwear brand known today as arena.
In 1973, just one year after the Games, arena launched its first competition swimwear line with the introduction of Skinfit®. Skinfit was known in the industry as a "technological pearl." The new ultra-light fabric only weighed 18 grams and was designed to cling to a swimmer's body like a "second skin."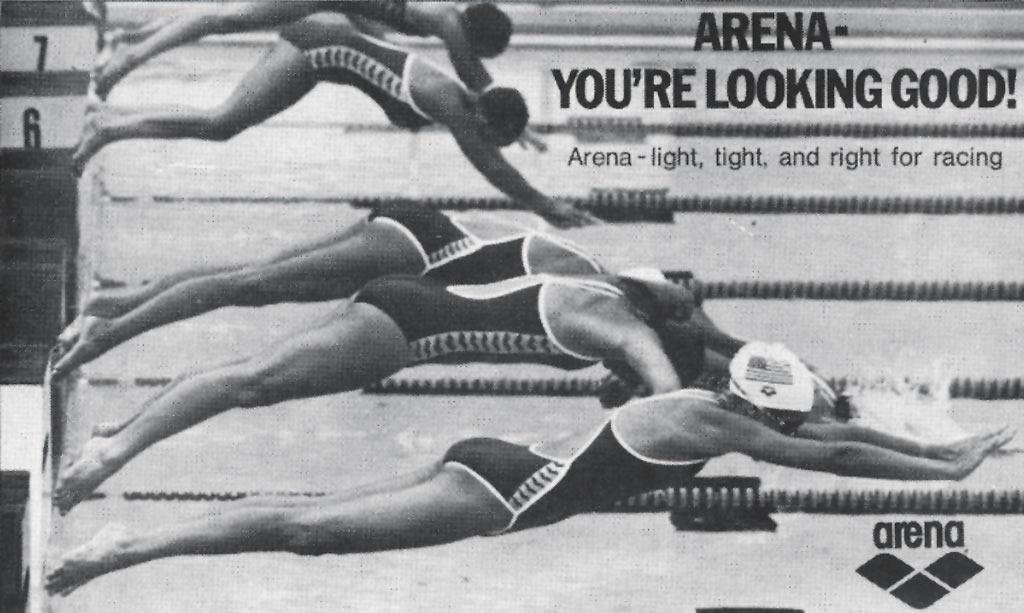 The following year, arena signed the first female sponsorship agreement with Australian swimmer Shane Gould. Gould was the "Female Spitz" of the 1972 Munich Games, winning 5 individual Olympic medals. Working in collaboration with Gould, in 1974 arena developed the Shane Gould Female Swimsuit Collection.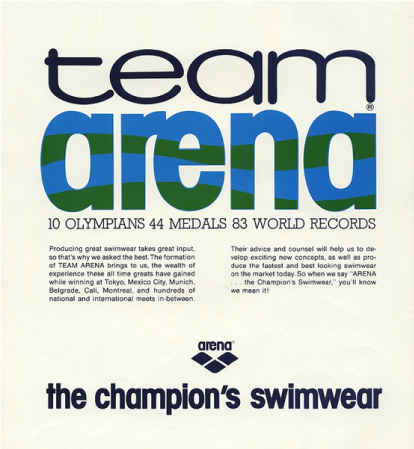 Dassler knew sports sponsoring was key to the brand's success, so in preparation for the next Olympics arena started signing other individual athletes who could provide feedback to the design and development of new products, plus at the same time generate excitement for aquatic sports. By 1976, arena athletes and products were ready for the Olympic Games in Montreal. Members of the original arena Elite Team included such world champions as Mark Spitz (USA), Novella Calligaris (ITA), Steve Furniss (USA), David Wilke (UK), Shirley Babashoff (USA), Gary Hall (USA), Klaus Dibiasi (ITA), Ulrika Knape (SWE) and Maxine "Miki" King (USA). arena's Elite were equipped with arena's first line of swim caps and goggles designed specifically to meet the needs of high level competitors.
The hard work that both the athletes and arena put into preparing for the Montreal Olympics paid off and the arena Elite Team won an astonishing 44 Olympic medals. Two years later, at the West Berlin World Swimming Championships athletes wearing arena won a total of 62 medals, nearly 75% of the total medal count, and broke 9 world records. Members of the original team went on to set a total of 83 world records.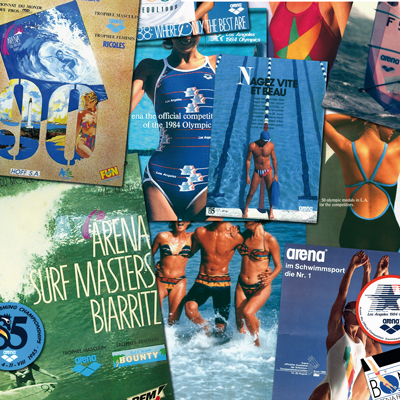 THE EIGHTIES. FREEDOM OF STYLE.
Getting used to being first, in 1980 arena introduced Flyback®. Flyback was the world's first competition swimsuit designed with thin straps to create larger shoulder openings and an exposed back in order to give athletes complete upper body range of motion. To this day, many swimmers and divers still prefer the freedom of movement provided by the Flyback style so the popular swimsuit design has been updated and is featured in our current collection.
At the 1988 Seoul Olympics, the newest arena Elite Team member Matt Biondi became the 2nd swimmer to win 7 medals in one Olympiad. Close to matching Spitz's record, 5 of Biondi's 7 medals were Gold and 4 of those were won with world record times. The first man to swim the 100m Free in under 49 seconds, Biondi can also be referred to as a 3-Time Olympian, 11-Time Olympic Medalist, 6-Time World Champion, 24-Time U.S. National Champion and World Record Holder. He is now a member of the U.S. Olympic Hall of Fame and the International Swimming Hall of Fame.
At the beginning of the 90's arena was ready to launch another technological breakthrough: AquaRacer®. AquaRacer was designed to make swimmers glide through the water because of its extra smooth finish and outstanding fit with maximum freedom of movement.
At the beginning of the 90's arena was ready to launch another technological breakthrough: AquaRacer®. AquaRacer was designed to make swimmers glide through the water because of its extra smooth finish and outstanding fit with maximum freedom of movement.

In 1997, the arena D&D Team did it again and left everyone speechless with the launch of X-Flat®, a fabric that was even thinner, smoother and lighter than AquaRacer. With a 25% lower weight than any other fabric used for competition level products, X-Flat was just a preview of what was to come in 2000. At the same time, the arena Elite Team continued to recruit new talented swimmers who went on to become historical world-class champions. Members included such talent as Alexander Popov and Franziska van Almsick, two of swimming's dominating world performers of the 90s. arena's drive to go beyond any established limit gave the world two technological breakthroughs: Powerskin® (2000) and Powerskin X-Treme® (2004). Powerskin technology became the flagship of the new generation of elite competition full-body swimsuits, as the new suits almost entirely cover an athlete's body. Powerskin® and Powerskin X-Treme® have won the privilege of accompanying the greatest champions onto the podiums of the most prestigious swimming events in Europe and the World.
And today they are still the preferred racing swimsuits for a great number of international swimming champions, such as Laure Manaudou, Filippo Magnini, Roland Schoeman, Ryk Neethling, Laszlo Cseh and the list goes on.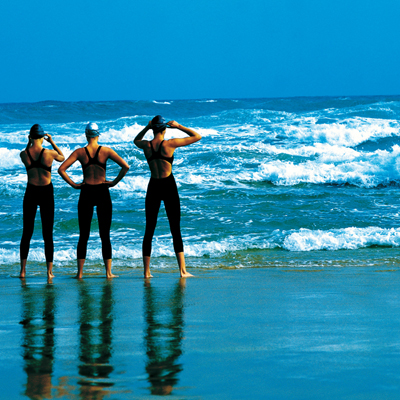 TWO THOUSANDS. COMMITMENT TO INNOVATION.
Over the past ten years, arena has involved itself deeply with a team of scientific professionals, in order to develop and produce some of the world's most innovative swimsuits: in 2004, arena launched the revolutionary Powerskin Xtreme, followed by the Powerskin R-evolution in 2008. The most technologically advanced innovation however, came in 2009 by way of the X-Glide, which was listed in Time Magazine's 50 best inventions of 2009. Paul Biedermann wore the suit during the World Championships in Rome that year, where he beat World Champion Michael Phelps, in what was his first defeat in the 200m freestyle, in four years. Soon after this, FINA forbid the use of polyurethane swimsuits, but thanks to decades of experience, arena faced the challenge head on and promptly launched the Powerskin ST, XP, R-evo, R-evo+ and the new 'polyurethane free' X-glide.
In 2012, the year of the London Olympics, arena produced a breakthrough, highly technological swimsuit, the Powerskin Carbon-Pro. The Carbon-Pro was made by weaving together carbonium fiber directly with textile, to get a revolutionary benefit known as "smart compression", an expression now adopted in swimming language.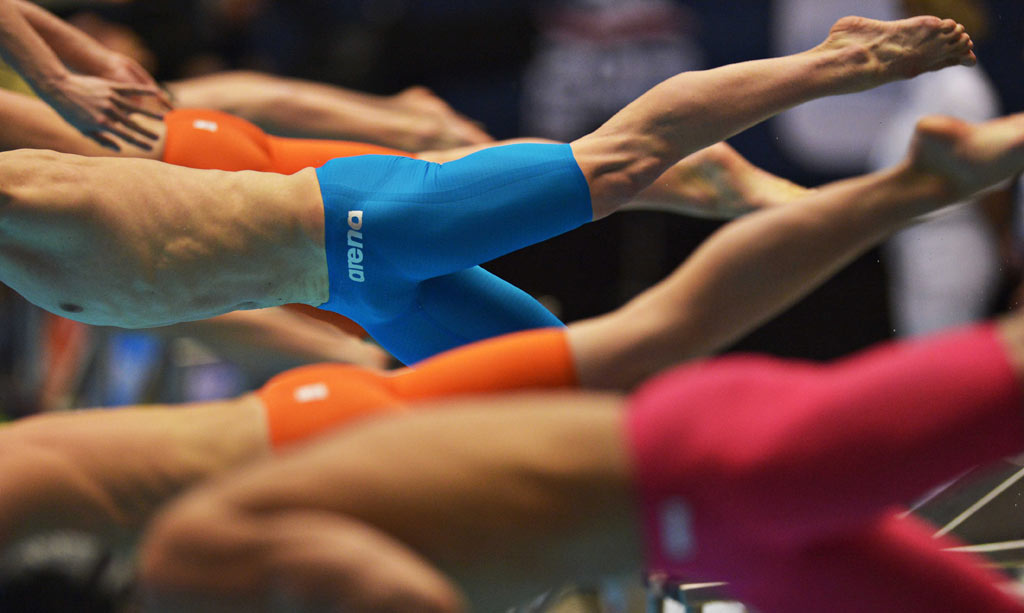 TODAY AND THE FUTURE.
At arena we understand that all athletes are driven to win, whether it be to stand on the podium or to achieve their personal best, the end goal is always a win. We understand because we have the same urge.
From the time arena founder Horst Dassler started his venture, arena has been focused on winning. We've had one goal: to strengthen and promote aquatic sports. Through a continuous pursuit to team with athletes for inspiration we've consistently provided products that match and exceed their expectations.
To us this is a win. And with over 30 years of practice, we've established a cadence between our athletes and our products.
To us this is our way to stand with you on the podium.